Compound bows have always had an advantage over classic traditional Bows. Their design and features make them easy to maintain and also improves the arrow's speed and archer's accuracy. We will discuss today about the best compound bow for hunting in this article.
This year, compound bows have taken another step forward in improved performance and efficiency in areas such as vibration, affordability, and noise management – which is essential when hunting.
Each bow I'll be reviewing is capable of taking down a whitetail buck because there's barely much difference between each compound bow models these days. It all depends on the archer's preference and skill set.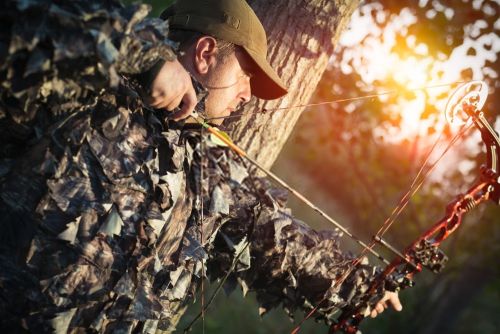 However, if you're still confused about which compound bow would best suit your hunting needs, I suggest you take a stroll to your local bow dealer and take a few shots from each bow.
The perfect compound bow would feel comfortable in your grip and work as an extension of your body. So take a few minutes to think hard before investing a few hundred dollars on a compound bow
But if you're a master archer that can work with any bow you place in the palm of your hands, then keep reading, these models will undoubtedly pique your interest.
10 Best Compound Bow for Hunting Reviews 2022
Bear Archery AV9KA30107R Perception Iron is the First on our Compound Bow that features some mind-blowing design and innovation.
This hunting compound bow is a dream for most archery enthusiasts to shoot because of the reduced friction on the draw, the balanced weight distribution across the shot, the crazy fast fire rate, and low vibration on the release.
Features:
The bow has a unique shoot-through riser that sets the arrow to smack dab in the center of the bow. This type of design reduces cam lean and cable torque and enhances accuracy by smoothing out typical shooting inconsistencies. Which makes this the best compound bow for hunting in the market.
Unfortunately, the back wall of the bow is a little spongy, which might prove challenging to handle for beginners. I suggest you practice holding a full draw to get used to the bow and also build both muscle memory and strength.
This bow may seem a little bit hefty because it weighs approximately 4.3 pounds and has a measurement of 33-inch axle-to-axle length. However, it is well balanced, somewhat, weighty, and will fire a bolt at an unsuspecting doe at lighting speed.
Specifications:
Speed: 350 fps
Bow weight: 4.3 pounds
Dimensions: 33 inches axle to axle, 6-inch brace height
Draw Weight: 45-60, 55-70 pounds
Draw length: 25.5–30 inches
Let Off: 75%
Pros
Very silent shots
Bolt fires at lightning speed
Well balanced build
Zero shocks and vibration
Cons
Takes a few shots to master
Relatively large and weighty
Unlike the Bear Archery perception, the Southland Archery Supply SAS Outrage is an excellent option if you're a newcomer to Bow hunting. It's also a unique way to learn how to dismantle and assemble a bow correctly.
Most Compound hunting bows come pre-assembled with all the essential parts, but the  SAS Outrage lets you add them as you see fit. Learning how to pick accessories for a compound bow is a fantastic skill worth developing.
Features:
What makes this bow unique is its draw weight which is roughly 55 to 70 pounds. This weight means you'll be able to land a perfect shot on most big games that you'll encounter while hunting in the U.S.
Although 55 pounds can be a bit hard to draw if you're new pulling a bowstring, the 70% let-off helps to achieve full draw by reducing the load.
So when you're pulling at 70 pounds, it's going to feel like 21 pounds at the maximum draw.
The SAS Outrage has an FPS of 270 which is quite standard of a compound bow with "no-frills". Besides, 270 will do just fine for targets at about 25 yards away – which is very okay for Deer hunting.
Just in case you're worried about speed, a bolt shot from the 25 yards range will hit a deer in 0.277 seconds, which is quite darn impressive.
Specifications:
Draw Length: 25″ – 31″
Draw Weight: 55 – 70 lbs.
Axle to Axle: 35″
Let Off: 70%
Max Speed: 270 FPS
Recommended Arrow: 30″ Carbon and Aluminum arrow recommended
Net weight: 4.4 lbs
Pros
Can equip bow with multiple accessories.
70% let-off makes a full draw easier.
Strong enough to take down a big game.
Cons
Not a good pick if you're looking for a fully-equipped, ready-to-go compound bow.
It's essential to know all the necessary accessories associated with a compound bow. However, if you're not into customizing your compound bow, then I highly recommend the Leader Accessories Compound Bow as the best option for quick bow hunting.
Features:
The Leader Accessories Compound Bow comes fully equipped with a bow sight, drop-away arrow rest, a bow release, a stabilizer, whisker biscuit, 12 carbon arrows, a soft case for transporting it, and a plethora of other bow accessories.
It also has a draw weight range of 30 to 55 pounds which is a little low for hitting big game, but it's still okay for Hunting down deers although the recommended requirement for Hunting deers is 40 to 35 pounds.
You'll also enjoy shooting your target at greased lighting speed with the 296 feet per second bolt speed.
Specifications:
Draw Length: 19" – 29"
Brace Height: 7"
Draw Weight: 30 to 55 lbs.
Bow Length: 28"
Bow Weight: 3.3 lbs.
IBO Speed: 296 FPS
Let-Off: 70%
Pros
It comes with a lot of hunting gear.
Lower draw weight is perfect for beginners.
Cons
Suitable for right-handed archers only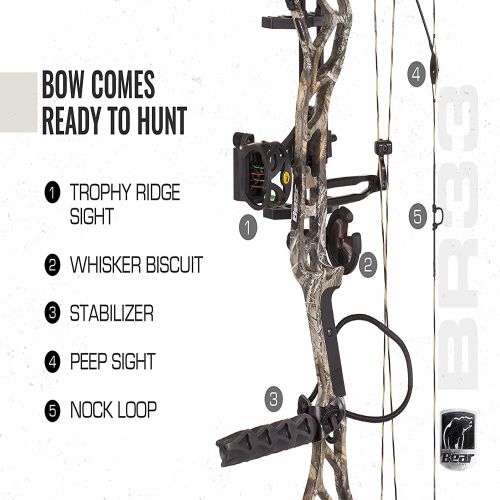 It's no surprise that we have two Bear Archery Compound Bows on this list; after all, they have been an industry leader in the bow hunting game for decades.
And they've proved their dominance as an industry leader by releasing the Bear Archery BR33 Hybrid Cam Compound Bow which is an excellent combination of design, speed, and a hint of innovation.
Features:
The Bear Archery BR33 comes with some pretty intimidating specs. This weighs just over 4 pounds and has an impressive let-off of 80% – which is light enough to draw and hold till you get a good aim at your target.
The bow comes with a max FPS of 330 (which allows the arrows to travel at high speeds) and a long axle-to-axle length of more than 33 inches – thus earning it the name BR33 (Bear Archery 33).
The BR33 compound hunting bow has almost the same specs of a target bow, and the extra length help stabilize your shots and get a better hit.
It's also got a max draw length of 32 inches, which is unique and 100% perfect for taller archers.
In addition to its features and specs, the bow has all the necessary accessories you'll need for hunting. These include whisker biscuit, 4-pin bow sight, and sound dampeners which lie both on the frame and on the string.
Specifications:
IBO Speed 330fps.
Weight range 55-70lbs only.
All bows are adjustable 15lbs down from the peak draw weight.
Draw length range 27″-32."
Brace height 7."
Axle to Axle 33.25″
Mass weight 4.2lbs.
EAZ Hybrid Cam with a rotating module.
Riser machined aluminum.
Let-off 80%
Pros
High FPS at 330;
2 pounds lightweight frame.
Let-off of 80%.
Cons
It might be difficult to carry through the forest because of the axle-to-axle length.
Not suitable for beginners.
05. Genesis Bow GenX – Best Budget Hunting Compound Bow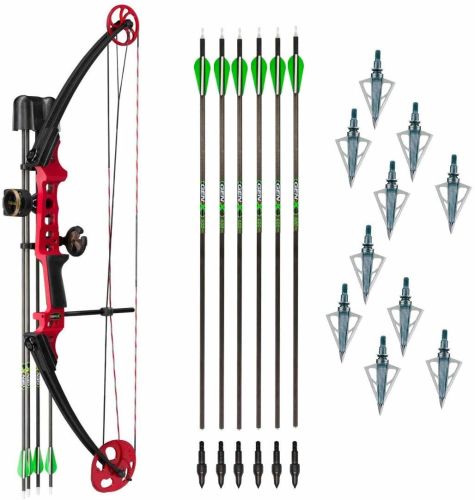 If you're a beginner that's only looking for a versatile compound bow for both hunting and target practice. Look no further than the Genesis Bow GenX – Ideal for both righties and lefties.
Not only is it versatile and affordable, but its specs also make it the perfect compound bow for practicing at the range to increase your accuracy. It's the ideal gift for anyone that's taken an interest in archery and will require a proper weapon.
Features:
The Gen-X Weighs only 3.4 pounds, which is light enough to be carried around by beginner archers. It has a standard adjustable draw weight of 25 – 40 lbs, and an adjustable draw length of 21″ and 30″, which propel your Bows towards the target at very high velocity.
Although this is the best Compound bow for beginners, it has a 35 ½" axle-to-axle construction.
This feature ensures that the bow is perfectly stabilized which is something that's not too popular among most low budget compound Bows.
What I like about his bow is the molded grip which ensures that the bow feels comfortable in your hand. You can also try out some new Archery accessories to the compound bow thanks to the pre-drilled machined aluminum riser.
Specifications:
Axle-to-Axle Length 35 1/2 "
Brace Height 7 5/8″
Adjustable Draw weight 25-40 lbs
Draw Length Range 21-30 inches
Mass Weight 3.4 lbs
Pros
Easy to shoot with
Reasonably accurate
Great bow for beginners
Very light and portable
Cons
The draw is a little rough
Shoots slower than it's expensive competitors
06. I-Glow Compound Bow – Best Hunting Compound Bow for Youth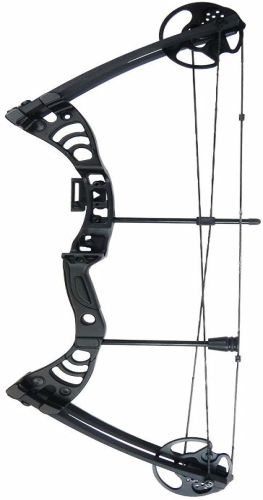 Remember the SAS Outrage that I talked about a while ago, well the iGlow compound bow was manufactured by the same company.
It comes fully assembled and strung, but only right-handed archer can wield the bow. This feature means you'll hold the bow with your left and pull the string with your right hand.
So if you're looking for a great low budget bow for beginners or teens, then I highly recommend you read this iGlow Compound Bow Review.
Features:
The I-Glow included a few critical items like quivers, peep sights, and stabilizers. These might not be the best quality due to the price range the IGlow falls in, but are still reasonably worth it.
But if they don't meet your specs, you can order some additional accessories or upgrades to help make the bow a piece worth firing.
The iGlow Compound Hunting Bow also has a draw weight of 30 to 55-pound, a draw length of 19 to 29 inches (which is quite small), and an axle to axle length of 28 inches.
Despite its small draw length of 19 – 29 inches, it has an arrow speed of over 296+ FPS. This speed plays a vital part in scoring a bullseye on your target mainly if you use a 30″ aluminum or carbon arrows.
If you're bored with the idea of owning a simple compound bow, then you can spice it up by ordering the I-Glow compound bow with the premium kit.
This premium kit includes an optic bow sight with a sight light, rubber stabilizer, brush arrow rest, D-loop string, bow sling, ⅛" tube peep sight, and Allen keys.
This bow is quite enough to get you started on your Archery journey.
Specification:
Aluminum build
Designed for right-handed users
It has a draw weight of 40 to 55 lb
Arrow speed is at 220' per second
Hits target with high accuracy
Draw length of 40 to 55 pounds.
Total length is at 41.5."
Let-off is 70%
Bow weight is 4 lbs.
Length is 27 to 29."
Compatible with a 30″ fiberglass or aluminum arrows
Pros
Adjustable Draw weight and length
Relatively light and Durable
Premium kits available
Cons
Only suitable for right-handed archers.
The Diamond Archery Infinite Edge Pro Bow Package is a great option when you're tired of training with beginner Bows and want to move up to something more intermediate and sophisticated.
Its numerous features, including its lightning fat arrow speed, set it apart from the dense competition in the compound bow market.
Features:
The Diamond Archery Infinite Edge Pro packs a bolt speed up to 310 FPS which sets it apart from a lot of bows out there. And once your bow's FPS range crosses the 300+ mark, you're starting to shoot some swift arrows.
The 80% let-off is also a  pretty impressive addition that comes in handy when you're trying to get strong enough to pull that draw weight towards 70 pounds.
The fact that the draw weight is adjustable is a feature worth mentioning. It also makes it easier to gradually build up your muscle strength so you'll be able to pull the bowstring at max 70 pounds.
The infinite edge is perfect for tall archers because it has a maximum draw length of 32 inches unlike the standard 29 to 30 Inches commonly used by regular archers.
Although this bow is a bit on the "high-quality bow" side, it has one major flaw which is the bow sight which features only three pins instead of the usual five.
So if you're serious about catching some big game, then you'll need to upgrade the sight to strike animals from over 40 to 50 yards away.
You'll also need to upgrade the stabilizer to achieve more steadiness on each shot.
Specifications:
Draw length: 13 and 31 inches.
Arrow speed: 310 ft/sec.
Redesigned cam system for a smooth draw
Integral stabilizer for a steadier shot.
Draw weight: 5 to 70 lbs.
80% let-off
Weighs 3.1 pounds
Pros
A stiff back wall that encourages consistent aim
Feet-per-second of 310
Adjustable draw weight
comfortable to hold because of the high 80% let-off
Cons
Requires tuning ;
Poor bow sight
Short stabilizer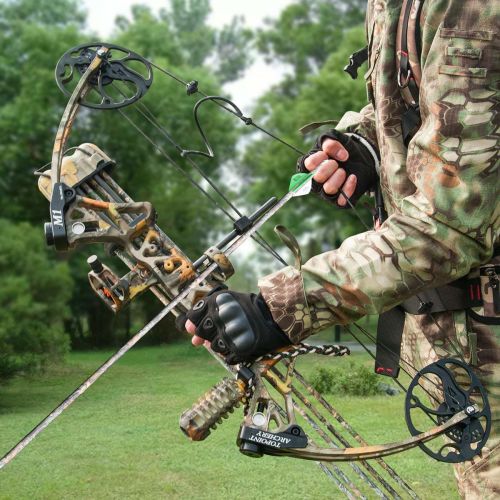 Compound Bow Topoint Archery Package M1 is one of the most versatile compound bows currently available in the market. Its unique specs make it easy to use for both beginners and professionals who are on the lookout for a good hunting bow with adjustable power.
This feature is possible thanks to the pulleys incorporated into the Topoint's sturdy design that helps to modify the load and also improve your accuracy.
Features:
The compound bow Topoint possesses two pulleys that permit you to adjust the load, which in turn reduces the stress in the rope tension.
This impressive feature increases the Topoint's accuracy and precision which permits you to use the compound bow for both targets based practice and deer or wild bore hunting.
The two pulley sets are capable of producing a draw weight of 19 to 70 pounds which helps you gradually build your strength till you're able to handle the 70 pounds.
The Topoint features several other hunting accessories to help you improve your shooting skills, thus eliminating any need to buy extra parts and accessories.
What makes this compound bow a fantastic weapon for both beginners and professionals is its unbelievable FPS of 320.
This feet per second is powerful enough to fire bolts with such a force that you won't even notice that you've already hit your target.
Besides, the lightweight of 3.31 pounds and let-off of 80% also makes it easier to draw the string and carry the bow without getting exhausted.
Specifications:
Draw Length: 19" – 30"
Brace Height: 7"
Draw Weight: 19 to 70 lbs.
Bow Length: 28"
Bow Weight: 3.31 lbs.
IBO Speed: 320 FPS
Let-Off: 80%
Pros
Easy to operate
Delivers shots precisely even from long ranges
adjustable draw weight
Cons
The bowstring is relatively hard

The Diamond by Bowtech Core is a weapon that deserves to be wielded only by a true archery master.
It has a solid structure that features a reflexed, lightweight, machined aluminum riser coupled with Bowtech's super Hardcore limbs and Center Pivot Extreme technology.
There's no denying that the Diamond By Bowtech Core is an archery masterpiece.
Features:
This "masterpiece" of a weapon weighs a light 3.2 pounds – quite less than most compound Bows in this range – and has a total axel to axel length of 31 inches which is perfect for taller archers.
The compound hunting bow also has a draw weight of 40 – 70 pounds which might prove difficult for some archers to draw if not for the 80% let-off (10% higher than most Bows) that the Bowtech core provides. A rangefinder can play an important role while hunting.
The bow comes with center pivot extreme technology from Bowtech which uses the extended riser combined with a small limb pocket to place the pivot point of the limb near the center, it's one of the best hunting compound bow.
This addition makes it easier to flex either side of the pivot point to produce the most accurate limb alignment and the quickest response time in the entire compound bow industry.
As expected of a bow made with such state of the art technology, the Bowtech Core is quiet and provides flawless accuracy. However, with an axle-to-axle length of 31 inches, it is rather compact and might take some time to master if you're not a tall archer.
So if you have extra cash to spare, an eye for beauty and power then, by all means, go for the Diamond by Bowtech core.
Specifications:
Weighs: 3.2 pounds
Axle to axle length: 31 inches
Brace height of 7.5 inches
Draw length: 25 to 30-inch
Draw weight: 40-70 pound
80% let-off
An Octane Capture arrow rest
3-pin Apex sight
Octane DeadLock Lite quiver
Braided wrist sling
5-inch Octane Ultra-Lite stabilizer
Alloy peep sight
BCY string loop
Pros
Lightweight
Super accurate thanks to Bowtech's center pivot extreme technology
Cons
A bit compact for shorter archers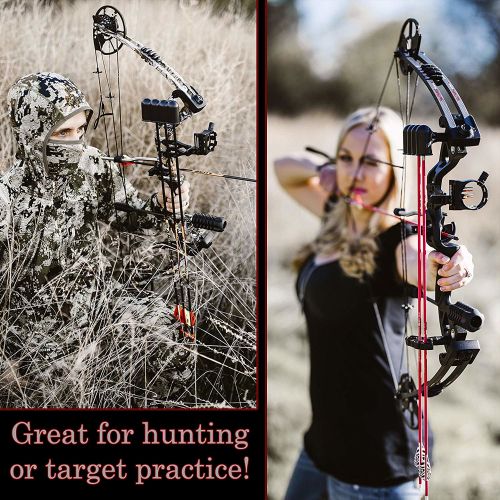 Last on our list is the predator Archery raptor – a heavy-duty bow for only the most skilled and severe bowhunters.
Predator Archery is one of the most reputable archery brands which now offers the most innovative hunting bow with the best mind-blowing technology, materials, and performance.
I think the RAPTOR Compound Hunting Bow is one of Predator Archery's best work.
Features:
The Raptor has a total axel to axel length of 30 inches, which is quite relatively large. But despite this compactness, it weighs a negligible 3.6 pounds that makes it easy for you to carry around in the woods while hunting.
The short 30-inch axle to axle length might seem bulky and too compact for some archers. Still, this same length is best suited to aid maneuverability.
The Raptor's sturdy build comes from a super durable, high strength aluminum riser, which also has an ingenious hollow design. This particular design plays a vital role in reducing the overall weight of the hunting bow.
Developing a motionless draw is almost effortless thanks to the smooth draw cycle of the Raptor. All you need to do is aim the bow in a shooting position, and draw as slowly as possible.
When you pull the string, you're holding 17.5 pounds at full draw due to the 75% let-off provided on the 70 pounds peak weight. This bonus feature makes it easier to remain steady while aiming at your next catch.
Another feature that makes the Raptor so unique is its adjustable draw length and draws weight which you can both adjust from 24.5 to 31 inches, and 30 to 70 pounds. Just like the Topoint I talked about earlier, this feature helps you nurture your skills as they develop towards becoming a professional.
Specifications:
Draw Length: 24.5" – 31"
Brace Height: No Info
Draw Weight: 30 to 70 lbs.
Bow Length: 30"
Bow Weight: 3.6 lbs.
IBO Speed: 315 FPS
Let-Off: 75%
Pros
portable and sturdy build
Impressive let-off
Durable riser and limb design for both maneuverability and durability
High arrow speed
Cons
30″ axel to axel length might be uncomfortable for some taller archers.
Best Hunting Compound Bow – Buying guide
Why Did I Choose These Products?
The top ten hunting compound Bows reviewed on this list were picked based on their various specifications. Some of these specs include price, feet per second, popularity/rating, versatility, and many other features.
I did thorough research on some of the best compound bows for hunting deers and wild bores. I came across a plethora of brands such as Hoyt Carbon Defiant, PSE Drive R, Obsession DefCon M7Z, Bear Archery Cruzer, Quest Radical, etc.
However, I deliberately selected these compound Bows because they are suitable for hunting and are amongst some of the most innovative and most reliable brands in the market today.
How to Select the Best Product?
If you've gone through this list and still don't know which one will be perfect for your needs, don't worry. It's natural to get confused when presented with a variety of reasonable options.
I suggest you analyze your needs before deciding to purchase.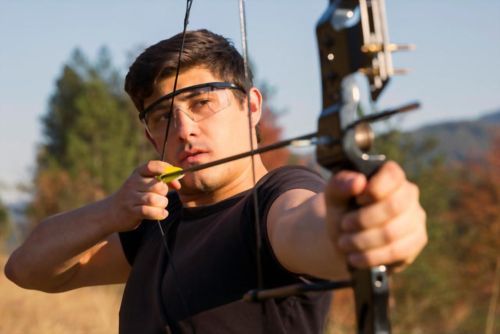 If you require an innovative Bow with a mix of power and style, then I suggest you lay your hands on the top fastest. These include the Diamond By Bowtech Core, Diamond Archery Infinite Edge Pro Bow Package, or the predator Archery RAPTOR.
However, if you're planning on taking your compound bow to the woods to Hunt for bigfoot (big game), then you'll need the firepower from the top best. These include the Bear Archery Perception Iron, the Bear Archery BR33, Compound Bow Topoint Archery, Diamond By Bowtech Core, and Predator Archery Raptor.
But if you're buying a compound bow for regular target shooting and maybe some deer hunting. I assure you that any bow on this list will enable you to do just that. Choose your gear wear your smartwatch, plug your earbuds & go for a hunt.
Bear Archery Perception IRON vs Bear Archery BR33
There are zero doubts that the Bear Archery perception iron and the Bear Archery BB33 are the two most potent compound hunting Bows on this list especially.
So to help decide which is better among the two, I've drawn a table to help distinguish their features so you can make a better decision.
As you can see from the table above, the bear Archery perception iron and the bear Archery BR33 are both formidable weapons.
It'll be almost impossible for any creature to escape a bolt from either one of these – not even sonic the hedgehog!
How to Use a Hunting Compound Bow?
If you're looking to buy a compound bow, there's a chance that you already know the basics of archery, i.e. how to shoot an arrow.
However, if you're not familiar with the technique, allow me to spell it out quickly:
"Draw the bow with your elbow high, hand flat, and relaxed. Find consistent anchor points on your face for the string and trigger the release smoothly. Hold the bow completely still as you watch the arrow travel downrange and impact the target – this is critical to improving accuracy".
There's more to it than I described, but this is only a brief description of how to shoot an arrow from a bow. But still, if you are unsure go to YouTube on your gaming laptop & watch some videos.
Is a Compound Bow Worth Your $$$?
Any product will be useless to you if you have no use for it. A compound bow is a step further into the ancient art of archery. And it is your responsibility as an archer to perfect the skill for the sake of the art itself.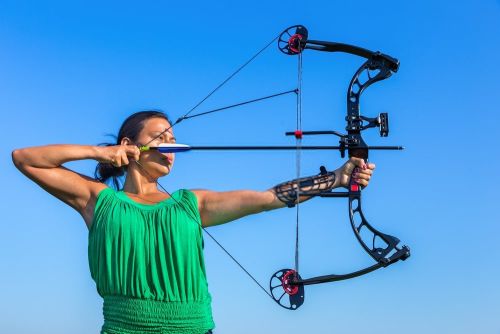 If your intentions on getting a compound bow aren't clear to you, then I strongly advise against buying one. I don't want you spending a few hundred dollars on a product you might regret purchasing in the future.
But if you ask me, I believe that if you have even the tiniest interest in Archery, I encourage you to try the sport out.
Who knows, maybe you might end up becoming an Olympic gold medalist in the future.
But first, start small, don't buy a compound bow just because it looks cool; let it have a purpose.
Best Compound Bow for Hunting – Frequently asked questions (FAQ)
What Is a "Riser"?
A riser is an essential part of the bow which it's also called "the chassis of the bow".
Its job is to hold the limbs of the bow and provide a place for the handle. It also acts as the arrow rest, stabilizer, and sight.
A typical riser is always light, durable, and inflexible.
What Is "Creep"?
Creep happens when you pull the string at full draw but allow the bowstring to ease forward slightly before releasing the arrow.
This flaw often happens due to poor skeletal alignment and a drop of back tension.
What Does "Brace Height" Mean?
Brace height is the distance between the "throat" of the grip and the string when you're not pulling the bowstring.
A shorter brace height means the bowstring will remain attached to the arrow over a longer distance. This feature results in faster arrow speeds, but also means a more extended period for movement of the shooter to transfer to the arrow.
Therefore, Shorter brace heights are usually less forgiving of shooter error.
How Fast Can an Arrow Fly From a Compound Bow?
The standardized measure for calculating the speed of an arrow is IBO Speed (5). The bow with the fastest shooting speed in production today has a firing rate of 370 feet per second (fps) – which is just 20 fps higher than the bear Archery Perception Iron.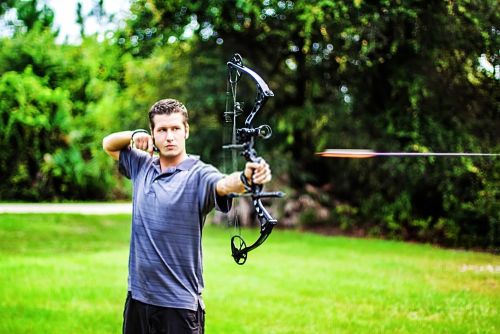 While classic traditional Bows often have a max speed of 180 fps. Add these speeds to a perfect broad head and be ready for some deadly results.
How Does Draw Length Influence Accuracy?
Your accuracy will suffer since it is harder to maintain reference points when aiming with a short draw length.
Also, if the draw length is too long, there will be a tendency to tilt the nose back slightly to see the peep sight. It thus results in a plethora of shooting complications and improper shooting posture.
How Is Draw Length Determined?
Draw length is measured in inches, and you discover the draw length by measuring your wingspan.
However most compound Bows today are often adjustable, so buying a bow that's within one inch of your wingspan should be your buying priority.
How Long Should Your Arrows Be?
The correct arrow length depends on the size of your bow and its draw length. A popular way to avoid short arrows in archery is never to buy bolts shorter than your draw length.
And if you're a beginner, it's recommended that you get an arrow that's an inch or two longer than your draw length.
How Is Arrow Length Measured?
Arrow length is usually measured in inches and is found by measuring from the nock's deepest groove to the end of the shafts.
*note: Arrow length does not include the point or insert.
How Long Does It Take to Become a Pro Archer?
Honestly, there's no specific time frame to learning anything; it all depends on you.
Every individual has a different view on life. If you try to compete against someone else's perspective, you might miss yours.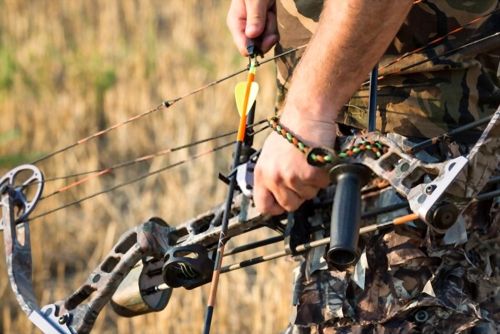 So take the time to enjoy the sport while you learn. Remember that It's a sport, but it also becomes a hobby.
However, When starting, I  recommend you get help from an experienced instructor or someone that's a worthy mentor in archery.
That way, you'll learn what they did right and also what they did wrong.
Conclusion
So that's a wrap. Hopefully, this relatively bulky review plus buying guide and frequently asked questions about the best compound bow for hunting was enough to lead you in the right direction.
Remember, a good compound bow is always a fun and useful tool for target practice or small to medium game hunting. And most of the compound bows for money on this list will do just fine in any area you consider entertaining.
I hope you've found the reviews of these to ten compound bows for hunting and frequently asked questions very useful.
Thank you for reading and happy hunting.