Buying the best gaming monitors can be a challenge for most users. There are so many options in the market with different specifications. The ability to choose the right one depends on your understanding of the specifications, user review, and compatibility with other gaming devices, your budget, preferences, and the kind of games you play.
In this article, we will examine the top seven monitors you can buy in 2022. Different gamer have different choices. One user may reject a monitor for the same reason another is buying. Our review considers several factors that combine to give you the best gaming experience. Accompanying it is a buying guide to explain these features further to give you a deeper understanding of how each one affects the performance of a monitor. Prices too feature prominently in our judgment.
Best Gaming Monitors Reviews in 2022
We picked some of the best gaming monitors in the market, hope you will find it useful.
Specifications
| | |
| --- | --- |
| Panel Size |  Wide Screen 27.0″(68.6cm) 16 |
| Panel Backlight / Type |  In-Plane Switching |
| True Resolution |  2560×1440 * |
| Contrast Ratio (Max) |  1000 |
| Viewing Angle (CR≧10) |  178°(H)/178°(V) |
| Response Time |  4ms (Gray to Gray) |
| Refresh Rate(max) |  165Hz*1 |
| Stereo Speakers |  2W x 2 Stereo RMS |
| Signal Input |  HDMI, DisplayPort |
| USB Port(s) |  3.0×2 |
| Tilt |  +20°~-5° |
| Swivel |  +60°~-60° |
| Pivot |  0°~+90° |
| Height Adjustment |  0~120 mm |
| VESA Wall Mounting |  100×100 mm |
| Super Narrow Bezel Design |  Yes |
| Phys. Dimension with Stand(WxHxD) |  619.77×552.53×237.9 mm |
| Phys. Dimension without Stand(WxHxD) |  619.77×362.96×65.98 mm(For VESA Wall Mount) |
| Box Dimension (WxHxD) |  756x456x300 mm |
| Net Weight(Esti.) |  7.0kg |
| Gross Weight(Esti.) | 10.6kg |
It is the best 27 inch gaming monitor you can buy in 2021. The 27-inch display is wide enough, and the 2560×1440 is currently the optimal balance for the best gaming experience. You'll have a significantly larger amount of pixels than a 1080p without the extra demands of a 4K panel. 4K panels can overwork even the best GPUs to produce maximum image quality. This monitor combines both great resolutions and refreshes rates of up to 165Hz, something that is not currently achieved by any 4K display. It also allows for a 100% scaling in windows, much better than with 4K panels.
Refresh Rate
If you are the type that takes part in competitive games, this monitor with its 144Hz is just what you need. The refresh rate can overclock to 165Hz, and it features NVIDIA's G-Sync technology, which introduces variable refresh rates to prevent screen tearing and other gaming artifacts. However, to leverage this advantage, you must have an NVIDIA GPU. For a monitor with an ISP panel, the ASUS ROG Swift PG279Q has quite a remarkable input lag, speed, and a viewing angle of 178 degrees with life-like gaming visuals. If you are a FreeSync user, you cannot enjoy the G-Sync feature of this monitor, and it is preferred that you purchase a FreeSync monitor instead.
The drawback of this monitor is its price. Currently, it goes for a little less than $800/£700. Still, spending this amount on such a quality monitor is worth it. Not only will you reap the benefits of a high-performance monitor, but also enjoy it for years to come. You may decide to go for something cheaper and most likely with lower quality. The disadvantage is that it won't be long before you start contemplating a replacement, probably in two years or so. Maybe you can try the Asus ROG Zephyrus S GX701 gaming laptop with the Corsair K70 gaming keyboard.
NVIDIA G-Sync Technology
There are other monitors with similar refresh rates, sizes, and pixel density. We picked this particular one because it is the best monitor leveraging a G-Sync technology. Most of its competitors either support FreeSync or G-Sync with noticeable inferiority to the Asus ROG Swift PG279Q.
It is the first monitor to run at 165Hz refresh rates with NVIDIA's G-Sync technology for crisp visuals and smooth gameplay. There is also the ultra-low blue light, flicker-free, GameVisual, and GamePlus technologies that make your gaming experience truly comfortable.
It delivers four times as much resolution as a 720p and hits 109 PPI. With greater image details and up to 77% more screen real estate than standard (1920 x 1080) displays, you get added advantage in a competitive game where players communicate with one another.
Asus ROG Swift PG279Q comes ergonomically built stand with full tilt, pivot, swivel, and height adjustment mechanism for different viewing positions.
Pros
1440p with up to 165Hz
Extremely fast refresh
Requires an Nvidia graphics card to use G-Sync
Bright, sharp picture, Saturated color, GamePlus
OSD joystick controller
Cons
Calibration required for best image quality
Low input lag for an IPS screen
Expensive
Requires an Nvidia graphics card to use G-Sync
Specifications
| | |
| --- | --- |
| Screen Size |  27″ |
|  Maximum Resolution |  (4K UHD)3840 x [email protected] Hz |
|  Aspect Ratio |  16:9 |
|  Contrast Ratio |  1000:1 |
|  Response Time |  4 ms GTG |
|  Overclock Refresh Rate |  144 Hz |
|  Color Supported |  1.07 Billion |
|  Brightness |  350 nit – Native, 400 nit – Peak (HDR Mode) |
|  Backlight |  LED |
|  Viewing Angles |  178° Horizontal 178° Vertical |
|  Panel Type |  IPS (In-plane Switching) |
|  Stand |  Tilt (-5°~25°) |
|  Swivel |  (-20°~20°) |
|  Speakers |  2 x 4 W |
|  Ports & Connectors |  HDMI® 1x HDMI®-in, 1x DisplayPort, 5x USB 3.0 |
|  Tearing Prevention Technology |  NVIDIA® G-SYNC® |
|  VESA Compatible |  (Yes) |
|  Weight (Approximate) |  11.3 lbs, 15.9 lbs. (with stand) |
|  Height adj | (3.94″) |
This monitor is similar in many ways to the Acer Predator X27, which deserves to be on this list, but for its high price in comparison to the Acer Predator XB273K. It almost doubles the price of the later. If not for a slight decrease in HDR quality, the XB273K matches up the X27 squarely.
The decrease in HDR does not mean that image quality has been forgone. You still have crisp image quality, strong colors, and contrasts with depths to games too. It features G-sync technology to offer the stability of display and smoothness in fast games. The refresh rate of 144Hz and the response time of 4ms is truly wonderful for an ISP panel. You have a generous option of ports to use regardless of the types of gear you have. This monitor is simply a great value for the money you spent. It can also be listed as XB3 or Xb273KP, depending on the shop or your country.
AHVA & HDR
Acer Predator XB273K has the AHVA moniker added to its features. AHVA is an acronym for Advanced Hyper Viewing Angle – not to be confused with AMVA's vertical alignment, which gives a much higher native contrast. It is supposed to produce a better off-axis image character, but that is not always the case. In most cases, it is no different than any other IPS panel. IPS panels are known for improved color quality, good viewing angles, and usually high response rates.
Acer Predator XB273K is the best 4k gaming monitor with an HDR 10 advanced color gamut. You only give up the 1000 nits brightness to have the same functions as the related models of Acer Predator X27 and Asus ROG Swift PG27U. However, the monitor carries the VESA Display HDR 400 certification. This implies that it will support HDR 10 up to the maximum white level of 400 nits, which is still bright enough for most gamers.
The backlight features a quantum dot film that stretches the color gamut to a controversially 90% of the DCI-P3. In combination with a 400-nit peak of white, this monitor makes a perfect choice for HDR10 content. This holds even if the XB273K does not produce a full-array backlit model. Acer has developed a workable variable functionality that increases four times the monitor's contrast ratio. The biggest take is that you can have this option with both SDR and HDR.
G-Sync Technology
The reliable 144Hz refresh rate works perfectly with G-Sync that operates from 24-144Hz. Plus aiming points, a powerful overdrive, and a frame-rate counter. The only downside, though not a big issue for most gamers, is the absence of ULMB (Ultra-low motions blur).
Acer Predator XB273K monitor ships fully assembled. You have only to unpack it to start rocking. There is also a professional artist light-shielding hood included in the package. It easily bolts to the constructed fittings on the panel. Another advantage of this monitor is that though it is not officially intended to be a professional product, reliable testing qualifies it for color-dependent applications.
Among the extras are a DisplayPort, USB cables, and an external power supply pack. There is a cover at the back that snaps over the input panel to conceal any ugly wiring and keep your desk looking clean.
There is an LED lighting feature underneath the front edge of the panel, which can be manipulated from the onscreen-display. The colors can be altered with different flashing and breathing results. You can also set the light to indicate the G-Sync mode. There is an anti-glare layer that does not affect the refresh rate or text legibility. Even when variable light is turned on, the contrast remains strong as in any top-notch VA screen. The well-built stand allows for a swivel of 20 degrees and -5 to 20 degrees of tilt. 10cm can adjust the height. There is an HDMI 2.0 and a DisplayPort 1.4 in the panel, both of which support 144Hz operations. A USB 3.0 comes in a single upstream and four downstream ones – two on the side, the rest at the back.
Pros
Brilliantly detailed pictures
Offers fast refresh and response times
Excellent value for a high spec monitor
Superb IPS 4K panel
Strong feature set
Cheaper than some alternatives
Cons
HDR is not the highest
Not a true HDR panel
Specifications
| | |
| --- | --- |
| Screen size |  24-inch |
|  Aspect ratio |  16:9 |
|  Resolution |  1,920 x 1,080 |
|  Brightness |  400 cd/m2 |
|  Refresh rate |  240Hz |
|  Response time |  1ms |
|  Viewing angle |  170/160 |
|  Contrast ratio |  1,000:1 |
|  Color support |  NTSC 72% |
|  Weight |  7.5kg |
Do not be disappointed by the few limitations with the BenQ Zowie XL2540. It still deserves a spot on the top gaming monitor's list. It sacrifices flashy lighting features for a blinding 240Hz refresh rate and 1ms response time, effectively eliminating input lag and screen tearing. Although it does not feature any adaptive sync technology, you will still benefit from its amazing refresh rate and response time if you have the right GPU for it. There is a ton of visual presets to keep things straight and easy. There is the "S Switch" control pod to manage the presets, and also a pair of alterable light screens. For pros or hardcore gamers, this is surely one of the best monitors in the market.
Manufacturers introduce all kinds of features to lure gamers into buying their products. Though they will argue to the contrary, some of these features have little or no benefit, while others can even be a hindrance. For example, you will often find a great emphasis on large screen sizes, garish designs, blazing LEDs, etc. being peddled as some of the strong points of the monitor. The benefits that come with some of these features is highly controversial. The BenQ Zowie XL2540 is designed with a focus on what matters for eSports competitors – i.e., image quality, refresh rates, and response time. But for a great gaming experience, you need the best gaming desks.
Resolution
By gaming standards, the resolution is acceptable. It all depends on the choice. You can decide if an ultra-fast refresh rate, high response time, and minimal input lag are a good enough reason to go for a 24-inch display with an average resolution that is kind of pricy. The price has dropped significantly since the launch of this monitor, and you could find more tempting offers in many stores.
Due to the singular focus of this monitor, it eschews elegant design in favor of a moderate functional look. This simplicity in design is to the pro's advantage. Again it makes assembling the game an easy task. Mating the base and the stand can be done quickly without the need for a screwdriver or similar tools. Even with the absence of screws, the base and stand attach firmly together.
This simplicity in assembly is to the benefit of pro gamers, especially those taking part in eSport that requires them to travel from tournament to tournament. While the size would seem small for some gamers, it does ensure that this monitor can be moved around without being too heavy.
The BenQ Zowie XL2540 may look like a monitor designed for the office. However, the presence of a control switch that simplifies switching between inputs confirms that the monitor is meant for pro gamers. The switch also enables swapping between three configurations presets. A powerful tool to help tweak the monitor for each game when playing more than one game simultaneously.
There are a few other nice touches, such as a carrying handle at the top of the stand, along with a red button on the right-hand side of the screen which, when pressed, pops out an arm on which you can hang your headset when you're not wearing it.
Screen
The screen can adjust vertically by 140mm. There are markings to guide you while setting up a position after moving the monitor exactly as it was before you moved it. The monitor also swivels 45 degrees in both directions, with markings on the base for exact angling. It is possible also to fix adjustable light screens either sides of the monitor to cover your eyes and the monitor from distracting ambient light or other distractions. With increased concentration comes an improvement in performance. This BenQ Zowie XL2540 gaming monitor is the best 1080p gaming monitor.
You can also attach adjustable light screens on both sides of the monitor, which will shield both your eyes and the screen from distracting ambient light, and help to block out any distractions.
This is another useful addition – it's something we've seen on displays for professional photographers and image and film editors, and another example of how much thought has been put into this monitor.
There are several different ports in the monitor, namely: a DVI-DL, two HDMI ports, DisplayPort 1.2, a headphone and mic jack, plus two full-size USB 3.0 ports. To take advantage of the 240Hz refresh rate, the gamer can make a connection through the HDMI or DisplayPort together with a G-Sync compatible NVIDIA or FreeSync supported AMD GPU.
The BenQ Zowie XL2540 monitor won't suit every gamer; neither does it try to, which one of the reasons it is so appealing. It targets a particular segment of the market – pro gamer and e-sport competitors. So if you are a professional gamer or intend to take part in competitions, this monitor will make an excellent choice.
Pros
High refresh rates
Easy setup
Portable
Great gaming performance
Cons
Expensive
Limited appeal beyond pro gamer
04. Samsung UR59C – Best 32 Inch Gaming Monitor Under 500
Specifications
| | |
| --- | --- |
| Panel Type & Backlight | VA / W-LED, edge array |
| Screen Size, Aspect Ratio & Curve Radius | 32 inches / 16:9, Curve radius: 1500mm |
| Max Resolution & Refresh Rate | 3840 x 2160 @ 60Hz, Pixel Density: 139ppi |
| Native Color Depth & Gamut | 10-bit / sRGB |
| Response Time (GTG) | 4ms |
| Brightness | 250 nits |
| Contrast | 2,500:1 |
| Speakers | ✗ |
| Video Inputs | 1x DisplayPort 1.2, 1x HDMI 2.0 |
| Audio | 1x 3.5mm output |
| USB | ✗ |
| Power Consumption | 30w, brightness @ 200 nits |
| Panel Dimensions(WxHxD with base) | 28.1 x 20.3 x 9.4 inches / 714 x 516 x 239mm |
| Panel Thickness | 3.4 inches / 86mm |
| Bezel Width | Top/sides: 0.4 inch / 9mm, Bottom: 0.8 inch / 20mm |
| Weight | 12.3 pounds / 5.6kg |
| Warranty | 3 years |
However, if you're a hardcore gamer looking for a true upgrade from a high-speed QHD, 144 Hz monitor, make the Acer Nitro XV273K ($775 / £800 at the time of writing) your budget pick instead.
The Samsung UR59C is a budget and curved 4K resolution screen of 32 inches. Although it does not adopt FreeSync or G-Sync technology, you can still enjoy adaptive sync with a good graphic card. For example, using a 1080 Ti and the right settings, it is easy to maintain 60fps with negligible input lag and no screen tearing. The overdrive feature also works great to reduce motion blur to a minimum while preventing ghosting. Samsung UR59C monitor has high contrast and pixel density. Its 1500mm curve radius makes for truly immersive gaming activity.
It is an ultra-large monitor you can get for $500 or less. It is difficult today to find 32-inch money that sells for less than a thousand dollars. The closest to the price of the Samsung UR59C is the BenQ PD3200U, which you can buy for $700 or more.
Screen
Samsung UR59Cis a curved 32-inch monitor with a 16:9 aspect ratio. The 32-inch monitor has an active area of 31.5 inches and a resolution of 3840 x 2160, and pixel density of 139 per pixel. It has a high contrast with a dynamic range of over 2500:1. The color quality is in the realm of sRGB, with a volume of 103%.
The only downside with this monitor is the refresh rate, which maxes out at 60Hz. It has a response time of 4ms with input lag lower than the majority of Ultra HD monitors of similar refresh rates.
There is no image distortion. Pictures are crystal clear owing to an anti-glare layer that keeps reflection away. Settings can be managed by a joystick fixed to the back of the monitor. The curve is quite convenient for keeping the screen within the periphery of your vision if you sit at about 3 feet from it. The joystick enables you to toggle the power and alter the on-screen display intuitively.
The stand is very solid but very spindly. It does not have a vertical movement or swivel mechanism, and the only way to adjust the screen's direction is 17 degrees back and 2 degrees forward. The fulcrum is located lower down — the top moves from you when you tilt the panel. VESA mount is absent, so you will have to make do with the factory stand.
Color Accuracy
Samsung UR59C monitor's clarity is first-class, thanks to the high pixels per inch and sharp contrast. You get to enjoy the benefits of a wide dynamic range. The colors are bold with crisp pictures and videos, plus text on a white background is quite easy to read. If color accuracy is a big deal for you, the Samsung UR59C will meet your expectations. The image fidelity is among the best you can find on the market. It is the best 32 inch gaming monitor under 500.
With this monitor, everything in your game will look better and more realistic: like trees, rocks, dirt, and reflection from shiny objects in the game. No IPS or TN screen can come any close to producing a parallel image quality and realism. Though not explicitly designed for gaming, the Samsung UR59C should satisfy most gamers.
Pros
Stunning picture
Accurate after calibration
Quality build
Effective curvature
Great for the price
Large Screen
Cons
No G-Sync or FreeSync
No USB ports
Needs calibration
05. AOC Agon AG271QG – Best 144Hz QHD Gaming Monitor
Specifications
Screen Size
27″
Native Resolution
2560×1440 (16:9)
Panel Technology
AHVA (in-plane switching), 8-bit
Refresh Rate
144 Hz (factory-overclockable to 165 Hz) + NVIDIA G-Sync
Brightness
350 nits
Contrast
1,000:1 (static)
Viewing Angles
178° (horizontal) / 178° (vertical)
Response Time
4 ms (GtG)
Adjustability
Tilt (-3.5° to 21.5°), swivel (40°), height (130 mm), pivot (90°)
Inputs
DisplayPort 1.2, HDMI 1.4, USB 3.0 upstream
USB ports
4x USB 3.0
Supplied cables
1x DisplayPort (1.5 meters), 1x USB 3.0 (upstream, 1.5 meters)
1x 3.5-mm audio cable (1.8 meters), external power brick (1.2 + 1.8 meters)
Audio
Built-in 2 W stereo speakers, 3.5-mm output
Extras
ULMB, Bluelight Filter
The AOC Agon AG271QG comes with all the benefits of a top-notch 2K gaming monitor except HDR. Why should you prefer it to the Acer Predator XB271HU or Asus ROG Swift PG279Q? Price! It costs a lot less. There are sellers on Amazon who accept $570 for it. It is currently one of the low-cost 27″ IPS G-Sync monitors refreshing at 144Hz. There is a FreeSync version that sells for about $450. The problem with this version is that it adopts the TN panel technology instead of the advanced AHVA.
Few monitors are as well designed for eSports athletes as the AOC Agon AG271QG. It is a curvy 27-inch monitor with a resolution of 1400p and high color accuracy. This monitor is certified for VESA Display HDR 400, with enough brightness to defeat most of its competitors. It features G-Sync technology that will take a lot of burden off your GPU and prevent tearing, motions blur, and other gaming artifacts. This means a smoother gaming experience. To leverage this, you must have an NVIDIA card as it is not compatible with FreeSync.
Screen
What makes the AOC Agon AG271QG particularly interesting is the rarity of its design. Not only does it adopt G-Sync, but it is also a curvy 27-inch screen coming at a great price. It adopts a TN rather than IPS panel technology and refreshes at a breath-taking165Hz. This monitor combines IPS at QHD resolution, with a 165Hz overclock, G-Sync, ULMB, and stable stylish design. However, there is a FreeSync version with similar capabilities that can perfectly substitute for this one. It is none other than the AOC Agon AG271QCX is the best 144hz qhd gaming monitor.
Some gamers are still contemplating which adaptive refresh technology they should settle down with. Others are looking for a change. A display designed for NVIDIA's G-sync will cost a couple of hundreds more than the one featuring FreeSync with similar features. Others are officially or unofficially compatible with both adaptive technologies.
Both FreeSync and G-sync monitors will perform very well when it comes to synchronizing between the monitor's refresh rate and the GPU's fps. With FreeSync, however, you have to keep a watchful eye on the operating range. Some FreeSync adaptive screens leave adaptive mode as soon as fps drops below 40 or even 50. This will have a huge impact on quality if your graphics card cannot maintain fps rates steadily above that benchmark.
Graphics Card
On the contrary, G-sync monitors always work from 30Hz, meaning even if the graphics card can sustain below 40, but not less than 30fps, the adaptive model of the screen will still apply. This is one of the reasons why G-Sync is more expensive and mostly found in premium monitors. Premium monitors mostly use IPS panels too.
The AOC AG271QG combines all these wonderful features, though it costs about $200 more than its FreeSync relative. But then you get the added advantage of a G-Sync, reduced motion blur, an IPS screen, and a higher refresh rate of 165Hz.
This design omits a couple of features. The OSD controller is the most notable. There are fewer inputs too – only one each of HDMI and DisplayPort, though the former is compatible with version 2.0. The solidly built stand allows for a height adjustment of just above 5 inches and a portrait mode. There is a 20-degree swivel for both sides, a 20 degree back and 5 degrees forward tilt.
If you are contemplating switching to NVIDIA for your next build or you already have a G-Sync graphics card, the AOC Agon AG271QG should be somewhere at the top of your shopping list.
Pros
Moderate price for a G-Sync monitor
High refresh rates and low response time
IPS panel
ULMB and All-metal stand
Cons
No On-screen controller
1,000:1 (static) contrast
HDR
06. Dell S2417DG – Best Budget 24 Inch Gaming Monitor
Specifications
| | |
| --- | --- |
| Screen Size |  24 inches |
| Resolution |  2560 x 1440 |
| Maximum Refresh Rate |  165 Hz |
| Response Time |  1ms |
| G-Sync/FreeSync Compatible |  G-Sync |
| Aspect Ratio |  16:9 |
| Panel Type |  TN |
| Inputs |  DisplayPort, HDMI |
For a monitor that is crispier than 1080p but not as expensive as a 4K monitor, the Dell S2417DG 24″ gaming monitor is a perfect gaming device. It is a middle ground between 2K and 4K monitors. It is featuring a 2560 x 1440 resolution, and this monitor packs excellent colors and brightness. Its features include helpful game modes and support NVIDIA's G-Sync for smooth gaming activity. While it looks like a good monitor for the office, it will also make for a comfortable gaming experience.
It is a 24-inc monitor with thin bezels and some less-than-stellar navigation buttons, and the Dell S2417DG is the best budget 24 inch gaming monitor.
Dell S2417DG looks quite different from most gaming monitors due to its design, especially due to its glossy black surface and sleek silver base. The bezels are scarcely visible, making the Dell 24 an ideal choice for a panoramic multi-monitor assemble. This can be a good characteristic depending on your taste, but it will be good to have a design that can serve home, office or gaming needs without looking out of place. Its designs also allow for rotating the monitor 45 degrees left or right, tilt it 25 degrees to and 5 degrees fro. It can also be raised or lowered by about six inches. It can be easily swiveled into portrait mode to make it suitable for vertically oriented tasks, or for use as a secondary screen to display, say your chat or other activity.
Graphics Card
Ports and the interface shows that the refresh rate is synchronized to work with any graphics cards. There are the HDMI and DisplayPort. DisplayPort makes it possible to leverage G-Sync. There are also two USB 3.0 ports and a USB 3.0 Type-B port behind. In addition to this are two USB 3.0 ports and a headphone located conveniently on the left panel.
The displays are navigated using four tangible buttons, though stiff and small. Sometimes one may have to press more than once to get input. To make up for this, the on-screen interface is very user friendly, which means you aren't going to need those buttons too often. The menu in white and black is very much tidier than many gaming monitors. It will be quite easy to figure out how to adjust settings, alter inputs and response time, etc. the monitor also has two programmable shortcut keys to let you reduce or increase volume, and easily navigate between HDMI and DisplayPort input signals.
Resolution
At 24 inches and boasting a rich 2560 x 1440 resolution, and clocking at up to 165Hz, Dell 24 is set up for vibrant and smooth gaming activity. It can adjust the refresh rate to match those of the game or GPU, provided your GPU supports G-Sync. The high resolution makes characters in any game clearly outlined in different colors to make distinguish between friend and foe easily. The Dell 24 is also highly responsive despite the high resolution. The display produces a strong average brightness of 284 nits, above the 245 nit average. The monitor is also very immersive. It beats the Delta-E average color accuracy of the rating of 3.65 by performing at 1.88. The closer this figure is to zero, the better. Dell 24 Gaming Monitor also exhibits a strong 122.8% of RGB color gamut which is higher than the 107% average.
If you are looking for a high resolution and a very affordable monitor and a prepared to deal with scaling up some games or apps to read tiny texts, then the Dell 24 Gaming Monitor should be at or somewhere close to the top of your scale of preference. It is not easy to find 24-inch monitors with such high resolutions and refresh rates. If you need the same features, but on a larger monitor, Dell's 27-inch S2716DG is worth considering. It is also very affordable compared to others with similar characteristics.
Pros
Vibrant quad-HD display
Very responsive
Useful game presets
Highly adjustable
High refresh and response time
Cons
Stiff navigation buttons
TN panel technology
07. MSI Optix MPG341CQR – Best 34 Inch Curved Gaming Monitor
Specifications
| | |
| --- | --- |
|     Screen Size |  34 Inches |
|     Resolution |  3440 x 1440 UW-QHD |
|     Aspect Ratio |  21:9 |
|     Panel Technology |  Vertical Alignment (VA) |
|     Refresh Rate |  144Hz |
|     Response Time |  4ms(1ms MPRT) |
|     Contrast Ratio |  3000:1 (Static) |
|     Brightness |  400 cd/m² |
|     Stand |  Height – Yes |
|     Stand |  Tilt – Yes |
|     Stand |  Swivel – Yes |
|     Stand |  Pivot – No |
|     VESA Compatibility |  Yes |
|     Connectivity |  DisplayPort 1.4x 1, HDMI 0x 2, USB 3.1 x 4, 3.5mm Audio Jacks |
|     Dimensions (W x H x D) |  31.91" x 22.17" x 12.76" |
|     Weight |  21.38 lbs |
MSI Optix MPG341CQR is a spectacularly curved LCD panel of 34 inches. It can refresh at 144Hz with adaptive synchronization and HDR that is only found in sophisticated displays. With the great benefits of the MSI Optix MPG341CQR comes competitive pricing. Unlike most Monitors on sale today, the panel technology for this MSI is VA, which has more advantages than a disadvantage. The MSI Optix MPG341CQR is also fitted with a dazzling RGB LED lighting. There is also an integrated camera in the lower bezel and a camera mount to enable gamers to live-stream their gaming activity.
The price for MSI Optix MPG341CQR monitor is higher than usual even though there are several other more expensive displays in this class but with slightly less performance. For example, Asus ROG Swift PG349Q is about a couple of hundreds more expensive, but at the same time does not clock the refresh rate of 144Hz – being limited to 100Hz. Similarly, LG's 34GK950F can refresh as fast as the MSI Optix MPG341CQR but costs substantially higher.
With a modern and elegant design, this monitor is very flexible. The stand is widely adjustable for height, tilt, and swivel. The aesthetics are smooth to owing to the slim bezels on three sides of the panel. By looks, another unique noticeable feature is the Mystic Light, RGD LEDs across the lower bezel.
Performance
The beautiful designs with its decorations add nothing to the performance of the monitor. However, physical appearance is also very important for most people, although it will be unwise to base your buying decision disproportionately to design. This monitor is one of the best gaming monitors for hardcore gamers.
The MPG341CQR's most outstanding features are the size of 34 inches, which combines VA panel technology, a 1800R curve, and a 144Hz refresh. That is quite a remarkable achievement for a VA panel. It arouses curiosity about the monitor's pixel response, which stands at 1ms. Pixel response has always been a VA weak point. Its biggest advantage is the static contrast it creates in images. It is rated at 3000:1 for static contrast – a mark that has not been achieved by any IPS screen. MSI Optix MPG341CQR is the best 34 inch curved gaming monitor.
There is also the 3,440 by 1,440 pixels resolution, which is the current standard for the category of 21:9 aspect monitor. The adaptive synchronization supports GPUs of FreeSync technology, which means you won't be experiencing any screen tearing. With such a resolution and refresh rate, this monitor sits at the optimal spot for high-end gaming. However, the issue with 4K resolutions at 144Hz is the demand on the graphic card. It takes a really good graphic card to crack 30fps talk less of 144fps.
MSI also gains a point due to Optix MPG341CQR's default calibration, with next to zero sign of compression regarding the white or black scales – and that is a really impressive achievement. The overall image quality is great.
There are three levels of pixel response with the MSI. The fastest being slightly OTT produces some overshot and inverse ghosting. The middle level produces a very good response with no obvious defects.
Graphics Card
Provided your graphics card has the required firepower, the MSI's 144Hz delivers a smooth and slick gaming experience. Note that the adaptive sync capability of the MPG341QR was officially designed for the FreeSync technology but is compatible with G-Sync.
Finally, MSI Optix MPG341CQR is capable of USB Type-C functionality. All of its features run perfectly over USB Type-C. It follows that one can connect a laptop over USB-C and get the benefit of 144Hz and adaptive synchronization. Gamers who play on laptops, but will love to connect to a monitor over USB will find the MSI MPG341QR very appealing.
Finally, this MSI does a good job of standing out in a highly crowded and competitive market. The adoption of VA in place of IPS panel technology is a score in terms of image quality. It creates better colors and contrast than the IPS alternative with next to zero input lag or response.
These are great features for a competitive price. If you are shopping for monitors with high refresh rates, resolution, a super-wide screen with VA panel technology, G-sync, or FreeSync, we recommend that the MSI Optix MPG341CQR should be at or near the top of your shopping list.
Pros
Punchy VA panel
Great gaming performance
Really strong overall feature set
Cons
08. Sceptre C275W-1920RN – Best 27 Inch Curved Gaming Monitor
Sceptre C275W-1920RN is a 27" curved monitor designed for an immersive effect. It has a wide viewing angle of 178 degrees vertically and horizontally. The LED monitor refreshes at 75Hz. It has built-in speakers, and it is edgeless. It also has HDMI and VGE ports.
The 1800R curvature design matches the contours of the human field of vision. This maximizes visibility and creates an atmosphere of immersion. It has an edgeless design that gives you more screen real estate. With the 75Hz refresh rate, images seamlessly transition faster to give you an advantage in gaming performance.
Sceptre C275W-1920RN monitor features a blue light shift mode. It has multi-ports which include HDMI and VGA ports. This provides diversity and different preferences. The monitor also has a tilting feature that minimizes glare and clarifies images to your liking. The monitor weighs about 7.5 pounds without stand and 8.59 pounds withstand. The tilting feature minimizes glare and clarifies images according to your liking. It's the best 27 inch curved gaming monitor.
The design in a thin bezel edge-less monitors that show images edge to edge. The Sceptre C275W-1920RN monitor is curved enough to be good but not to get glare from the other lights. It has good picture quality and audio speakers. The curvature gives you an immersive effect. Your eyes don't have to sweep from one corner to the other.
Specs in Brief: 27" inch curved screen, IPS panel technology, 178-degree viewing angle, 1920 x 1080 Full HD Resolution, built-in speakers, HDMI, VGA & Headphone Ports, and 75Hz refresh rate.
Pros
IPS panel technology
Affordable
High resolution
Wide viewing angle
High refresh rate
Cons
Response time of 8ms will be noticeable in fast-paced games
Slight ghosting with some games
09. Asus VX248H – 24" Full HD Gaming Monitor Under 200
Asus VX248H is a 24" full HD monitor. It has a resolution of 1920×1080 and a 1ms response time. Combining this feature with the 60Hz refresh rate should be okay for most game types. It is designed to be ultra-thin and fitted with ASUS eye-care technology. It has a contrast ratio of 80,000,000:1 and produces very crisp images. Asus VX248H monitor comes with robust connectivity including Dual HDMI and D-sub. You could connect it to Full HD Blu-ray Disc players and myriad HD playback devices like DVDs.
Quite a lot of Asus monitors definitely stands up to expectations. If you play a lot of first-person shooters, and any other type of game, this monitor deserves a spot on your consideration list. The color production of the Asus VX248H monitor is really great. If you do not require a monitor of more than 60Hz refresh rate, then this should be good for you as many buyers find it amazing. Settings and eye-care mode are truly great. The color is so crisp that you do not have to quint while playing a game.
Speakers are not so great, but if you have headphones, then that shouldn't be a problem. Another issue is that they are not designed to mount to a VESA mount. If you want to mount it to a VESA mount, you will need to buy the adapters. Buttons appear inconveniently placed at the bottom of the monitor so that you need to twist your arm to press them. Onboard speakers aren't so great and the back strangely bugles, probably to complement the not-too-great stand. Not designed to be mounted overhead or to a wall. Asus VX248H monitor is the best 24" full hd gaming monitor under 200.
Specs in Brief: 24", 1920 x 1080, 1ms response time, 60Hz refresh and Dual HDMI and D-sub.
Pros
Cheap
High resolution
Low response time
Dual HDMI and D-sub
High contrast ratio
Cons
Cannot mount on a VESA, wall, or overhead
Speakers not so great
Buttons might not be conveniently placed
Overall, most buyers on Amazon have good experiences with this monitor. There are a few complaints on some not so important imperfections, but that should be expected of every product. This monitor is worth the amount.
10. LG 29WK600-W – Best Gaming Monitor Under 300 with HDR10
LG 29WK600-W is a 29" ultra-wide IPS monitor with HDR10. It is FreeSync enabled and has an aspect ratio of 21:9. It has sRGB 99 percent Color Gamut and On-Screen Control with Screen Split.
The ultra-wide gives you a lot of screen real estate. You have a wider viewing angle due to IPS technology. This is good for those who want to play from different angles to the monitor, or where many viewers are involved. The color quality has over 99% sRGB coverage.
Despite LG 29WK600-W compatibility with HDR10 the HDR content may not display correctly if your windows 10 OS settings are not maintained accordingly. The ultra-thin bezel on three sides gives you a virtually borderless visual experience. The on-screen control puts a host of essential settings into a handy window for quick easy access. You can adjust volume, brightness, picture mode presets, screen split 2.0, etc. can be managed just by a few clicks of the mouse instead of having hard buttons on the monitor. LG 29WK600-W is the best gaming monitor under 300 with hdr10.
FreeSync technology enables your GPU to coordinate with the monitor's refresh rate. If you select a resolution of HDMI 1080i 60/50 Hz (interlaced), the screen may flicker. To stop this, change the resolution to 1080P or the recommended. You can experience top-quality gaming with a wireless keyboard & the best wireless gaming mouse.
Specs in Brief: 2560 x 1080 pixels, 11.5 pounds, 29 inches curved, HDMI, 60Hz refresh rate, 5ms response time, IPS technology, FreeSync, 21:9 aspect ratio, and 99% sRGB coverage.
Pros
Smaller footprint and high pixel density
Ultra-thin bezel
High refresh rate which overclock to 70Hz without artifacts
Superb colors
Cons
The stand is aluminum but has plastic parts
No USB ports
No height adjustment and you can't turn the monitor left or right.
Best Gaming Monitors – Buying Guide
Monitor Size
Size is always a very important factor. The best monitor size for gaming is not always the largest. You have to go for what suits you the most. Large, ultra-large, and small size monitors all have their merits and demerits. If a monitor is too large, it may strain your eyes to constantly shift gaze from one corner of the screen to the other. With a too-small display, you may have a hard time spotting some lurking game-ending creatures that may sneak up on you. You have to determine what works best for you. There is no one-size-fits-all.
Most people are fine with a 24 or 27" screen. The best 2K or 4K is neither too small nor too large. It is perfectly okay to go for something below or above these popular sizes – like you can still enjoy gaming on a 34" monitor or even higher, depending on several factors. When you have found a size of your choice, there are certain features you should look out for. Size alone is not enough – it has to balance the resolution and aspect ratio.
Resolution
Resolution refers to the number of pixels that can be displayed on a screen. It has a great effect on image quality and screen real estate (free space). The aspect ratio is the ratio of the width to the height of the monitor.
The resolution and aspect ratio of a monitor is critical to your gaming experience. It determines how images are displayed. The widely accepted aspect ratio of monitors is either 16:9 or 21:9, the latter being less common, and found mainly in ultra-wide screens. High resolution has its advantages and disadvantages.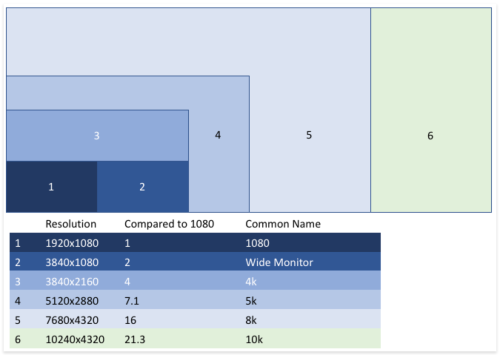 A high resolution will make images very sharp and give you a lot of extra space for other activities. However, it will make in-game text look smaller and maybe too difficult to read – sometimes, you will need to scale up the game to read texts. Games with poor or no scalability will be less fun to play on such monitors. Most modern games are scalable, though, but you ought to check your favorite apps for scalability if you want to settle for a high-resolution monitor.
With a low resolution, images will be big, blurry, and will probably cover the whole screen. You won't enjoy playing on a low-resolution monitor. What you need is a monitor with an acceptable level of pixel density, which defines the quality of images and readability of texts. You will see 720p, 1080p, 2K, or 4K resolutions in different screen sizes. Some people think that a large-screen monitor will have a high resolution and therefore support any content. This is not the case, as some wide-screens may not support HD, FHD, or UHD content. Some gamers prefer ultra-wide monitors for the immersive gaming effect; others want the ultra-wide monitor to have more screen real estate to do other stuff.
Ultrawide Resolution
If you want to have an immersive gaming experience similar to cinematic viewing, you need an ultra-wide HD – something from 32 inches and above. Most ultra-wide monitors have curvy designs to maximize the immersion. Plus, ultra-wide monitors with acceptable resolutions give you enough space to do other stuff like chatting while playing your game. The similitude between this kind of monitor and a smaller one is like that between a large and a small table. It does not mean that you will always pay higher though ultra-wide monitors are more on the expensive side. Note that you may not be able to sit as close to an ultra-large monitor as you wish – in fact, with all other monitors. The distance you prefer to sit from a display also determines the best size for you.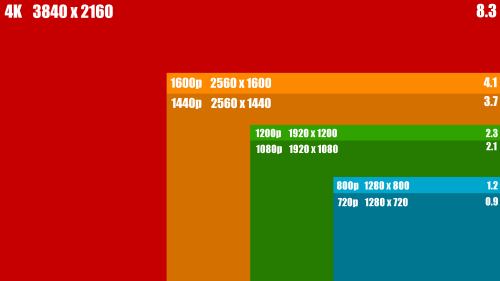 If you sit less than three feet from the screen while playing, a 24-inch monitor should suit you well. A wider monitor will be overwhelming to view up close as you will find it harder to keep track of the activity on the screen. This is especially true with competitive games like Counter-Strike, Global Offensive, etc. it will also be difficult viewing all the game's info showing at the sides of the screen.
If you sit about three or four feet from the screen, a 27-inch monitor will suit you best. You can also go for 32" monitors or higher. Whichever size you settle down with, it is important not to forget that it must be of acceptable resolution. Different sizes are best with certain resolutions. 27" with 1440p is what suits most people.
Pixel Density or PPI
The recommended resolution for a 24-inch monitor is 1920×1080 (Full HD), which has a pixel density of 92 PPI. You can also have higher resolutions like 2560×1440 (QHD) or 3840×2160 (4K UHD), though these are not the most recommended for gaming when using a 24-inch display – remember what we said about scaling. However, they are good for large screens up to 27 inches or above.
I will repeat that when buying a monitor, always aim to balance between space and image quality with no scaling required. If you prefer higher pixel density than size, be sure than you can cope with scaling up an app in other to read in-game texts. For a 27" monitor, 109 PPI is the standard. You can easily calculate the PPI (pixel density) of any monitor from the resolution.
Calculate Your PPI
To calculate the pixel density of a monitor – say 3440×1440 in a 34-inch screen, add the squares of 3440 and 1440 and find the square root of your answer. Divide that square root by the screen size to get the resolution. Here is the pixel density: 34402 + 14402 = 2073600, the square root of which is 1440. Divide 1440 by 34 to get a PPI of 42.4. A PPI of 109 is the sweet spot for most gamer. However, less or higher is also acceptable to many. Below is a shortlist of the most common monitor size to resolution combination considered the best.
23 – 25 inches  – 1080p
27-inch – 1440p or 4K
28 – 30 inches – 4K
25-inch to 29-inch ultra-wide: 2560×1080
34-inch ultra-wide: 3440×1440 (4K)
38-inch ultra-wide: 3840×1600 (4K+)
Our recommendation on size and pixel density combination does not imply that any different combination is not suitable. It is only about what a good number of gamer find to be best. A different combination from the above can still be convenient. Anyway, size to resolution correspondence alone may not be enough to satisfy you. A third factor also comes into play: the Panel Type.
Panel Type
Twisted Nematic (TN), Vertical Alignment (VA), and In-Plane Switching (IPS) are the three most popular LCD technologies used in modern gaming monitors.
IPS is a more recent LCD technology. It has certain advantages over TN and VA panels that make it a more popular LCD option for gaming monitors. However, depending on the functional scope of a particular gaming device or purely on preference, a TN or VA panel can have more advantages over and IPS. All three have their strengths and weaknesses. We will compare and contrast them using six most important display characteristics: color reproduction, viewing angle, contrast ratio, response time, power consumption, and of course, price and cost.
Color Reproduction
A major disadvantage of TN panels is poor color reproduction. It has a far lower color accuracy than the other two, and therefore, image quality in a TN LCD is comparatively lower. Most TN LCDs have a 6-bit RGB color depth. This means that the red, green, and blue channels of individual pixels have 64 levels to produce 262,144 possible colors. It shouldn't be interpreted as meaning that the image quality is unacceptable.
On the other hand, most VA and IPS panels feature an 8-bit RGB color depth. An 8-bit monitor is capable of 256 levels for each pixel, producing 16.7 million possible colors. IPS panels have the best color accuracy among the three. You will find IPS panels capable of 16-bit or 24-bit RGB color depth to produces a much higher number of possible colors. This makes IPS a favorable monitor option for color-critical games.
Viewing Angle
Another big minus for TN panels is its dependence on viewing angle. To maximize the visual performance of a TN display, a gamer has to view it from a straight-up 90-degree angle. This means you will have to face the monitor while gaming directly. Viewing from other angles makes the colors and images appear duller and darker. If you don't mind always facing your monitor directly while gaming, or a less crispy image and color for different viewing angles don't bother you, then this should not be a problem.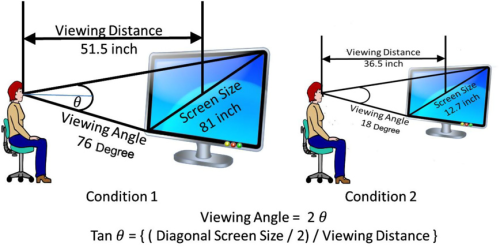 VA monitors have better viewing angles than TN monitors. But they also have the problem of uneven brightness when you are viewing from a different angle than 90 degrees. Some parts of the screen will appear brighter than others.
IPS monitors have the best viewing angle. The high-quality ones produce consistent brightness and contrast ratio from different viewing angles.
Viewing angles aren't such a big deal for gamer. Even when viewing from less convenient angles, the image and color quality are mostly of acceptable levels.
Contrast Ratio
Contrast ratio means the level of contrast between the brightest color and the darkest color of a display.
TN panels have a lower contrast ratio than their counterparts, with IPS having the highest contrast ratio. However, when backlighting is effectively blocked in VA panels, it results in deeper blacks and higher contrast ratios than IPS panels. Note that some experts argue that contrast ratios are just hype due to the absence of any testing standards in the industry. This means the differences are hardly noticeable. So do not avoid a TN monitor just because it has a comparatively lower contrast ratio.
Pixel Response Time
This is where TN monitors score higher than its counterparts. Response time means the duration it takes a single pixel to transform from one state to another. Measured in a millisecond, the lower the number, the better. Long pixel response time results in ghosting effects or motion blur around moving objects.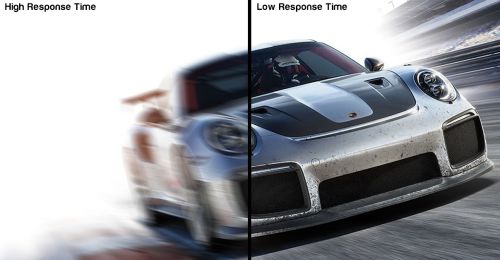 Both VA and IPS panels suffer from longer response times than TN panels. The much faster response time of PN panels makes them popular for fast-paced games. It is not hard to find monitors with 1ms response time. Generally, a 5ms response time is acceptable for any monitor, and many IPS and VA monitors respond this fast.
Power Consumption
Lower power consumption is another advantage of TN over IPS and VA panels. Not only does it use low voltage, but a TN monitor does not require current flow during operation. As power isn't a problem for most gamers, there is no problem with buying a VA or IPS monitor.
Cost and Price
Because TN LCD technology is easier to implement, TN monitors are less expensive to manufacture. As a result, they are cheaper than VA or IPS, with IPS being the most expensive of the three or maybe you can consider buying a gaming laptop.
Adaptive Technology
Before buying a monitor, you must find out if your Graphics Card will be able to take advantage of the qualities it offers. There is what is known as FPS (frames per second). This refers to the number of frames or images your graphic card can send to the monitor in each second.
If your monitor is capable of 144Hz, to take advantage of this high refresh rate, you need a graphic card that can perform at up to 144fps. If your graphic card cannot put up with this refresh rate, you may experience problems like screen tearing and other gaming artifacts.
However, some monitors can adapt to the graphic card, meaning if your graphic card can only push 45fps, the monitor will switch to a lower refresh rate to accommodate the graphic card. Two technologies make monitors adaptive: G-Sync and FreeSync. G-sync provides higher performance but costs a lot more. FreeSync is considerably cheaper and performs well, too, but not as well as G-Sync.
Adaptive monitors are better because they eliminate the problem of tearing or significantly reduces it. But to use a G-Sync monitor, your graphic card must be G-sync compatible. The same thing goes for FreeSync monitors. However, there are G-sync or FreeSync monitors that are officially or unofficially compatible with both G-Sync and FreeSync graphics cards.
Conclusion
No monitor type is better at everything. Each has advantages and disadvantages. A gaming monitor can feature any of the panel technologies discussed and still provide a great gaming experience. What is most important is to check that the following characteristics of the gaming monitor are acceptable to you: size, image quality, refresh rates, response time, cost, viewing angle, contrast ratio, and adaptive technology. Hope I helped you to find the best gaming monitors you are looking for.